While Stuart was still in Amsterdam a friend and I ate at Pony at The Rocks before watching Jose Gonzales play his beautiful music at the Sydney Opera House. I always try to read a restaurant menu before dining out – just to get my tastebuds going (and it makes decisions much easier!) The sumac roasted salmon with beetroot and asparagus caught my eye, but the addition of whipped feta really intrigued me. A soft fluffy cloud of lightly salted cheese – why have I never encountered this before, let alone made it? I highlighted this recipe with you last week and now I'm finally delivering!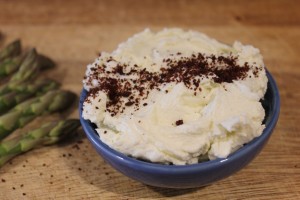 I took the concept of whipped feta literally but it didn't go so well – feta on it's own doesn't do anything but disperse into little cubes when attacked with a set of beaters. A quick google highlighted my error – the critical addition of cream cheese is what brings the feta together! The resulting feta pillow will lend itself to many additions – spices, olive oil, lemon zest, garlic, herbs… to be spread on toast, added to scrambled eggs (done both, yum) etc. It is also good with salmon and roasted beetroot – the freshness of the fish, the sweetness of the beetroot, the saltiness of the whipped feta with the subtle hint of earthy lemon from the sumac is a delicious combination.
Ingredients (for two)
2 pieces of salmon
Small bunch of beetroot
1 bunch asparagus
sumac
rosemary
50g cream cheese
100g feta cheese
olive oil
salt and pepper
Method
Preheat your oven to 180 degrees C. Line a baking tray with foil.
Trim and clean the beetroot and place on a sheet of foil with a drizzle of olive oil, salt and pepper and a sprig of rosemary (if you have it). Fold up the package and place on the tray in the oven to cook for about an hour, depending on the size of the beetroot.
Meanwhile, whip the room temperature cheese together until soft and fluffy. Set aside for later.
When the beetroot can be easily pierced with a knife, rub olive oil and sumac onto the salmon and place on the baking tray and pop it into the oven.
Roast the salmon for about 5 minutes before adding the asparagus and then roast for a further 5 minutes. The salmon is cooked when it gently flakes with a fork, so if it needs more time remove the beetroot and asparagus and cook for a few minutes more.
Plate and serve. Then congratulate yourself for creating hardly any washing up!