This recipe is from a friend of mine (aren't the best ones always from people you know?!) and it's really easy and really good. You can make it in one bowl if you wash the bowl while the cupcakes are in the oven, so that means one less reason not to make them! These cupcakes have a super light crumb with a hint of cocoa – the chemical reactions with the bicarb, vinegar and buttermilk do all the hard work. The cream cheese frosting is decadent and delicious – I don't really need to say anymore than that! Do yourself a favour and make a batch because they freeze really well too – but freshly baked and just frosted they are pretty hard to resist.
Ingredients
Cupcakes
2 1/2 cups flour
1 1/2 cups caster sugar
1 tsp bicarb
pinch of salt
2 tbs cocoa powder
1 1/2 cups oil
1 cup buttermilk
2 eggs
30ml red food colouring
2 tps vanilla
1 tsp vinegar
Frosting
This is the original recipe, but I halved it and I thought there was enough.
250g butter
250g cream cheese
1kg icing sugar
2 tsp vanilla
Method
Preheat oven to 180 degrees C and line your muffin tray with paper cases.
Sift together dry ingredients into a large bowl.
Make a well in the dry ingredients and then add the wet ingredients and mix well.
Spoon into your cupcake cases (about 3/4 full) and bake for about 20-25 minutes. Makes about 24 depending on how generous you fill the paper cases.
For the icing, beat the room temperature ingredients together until light and fluffy.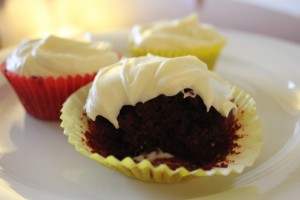 See! So good I took a bite before taking a photo!