This is the ultimate slow cook dish for winter – lamb again, I know… but it's a lovely twist on a more traditional beef massaman curry. Massaman curries are not as spicy as traditional Thai curries can be, but it's still full of flavour and delicious. There are plenty of recipes for home made spice pastes around and when I have the time I love to make my own. However, sometimes I just want to rely on a good curry to save time, but not compromise on flavour!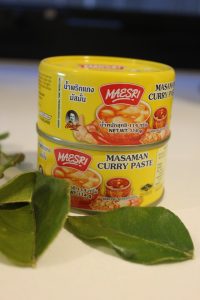 Maesri make heaps of different varieties of curry paste and they are all good and taste (as I think) Thai food should taste. Keep your eyes peeled for them in your local Asian grocer.
Ingredients
Vegetable oil
4 lamb shanks
2 x tins of curry paste (adjust depending on the brand directions)
2 onions, peeled and cut into sixths
400ml coconut cream
400ml beef stock
2 tbs fish sauce
6 kaffir lime leaves
8-10 chat potatoes
Handful of peanuts
Method
Preheat your oven to about 160 degrees C.
Heat some vegetable oil in a cast iron pot and brown your lamb shanks all over.
Remove them, set aside and add the curry paste to the pan. Cook for a few minutes to release the flavour.
Place the lamb shanks back in the pot along with the onions, coconut cream and beef stock. Cover and cook in the oven for 2 hours.
Remove from the oven and add your potatoes, fish sauce and kaffir lime leaves. Depending on how saucy you are, you can either put the lid back on or leave it off so the sauce can thicken while your potatoes cook. Cook for about 45 minutes more.
When the lamb and potatoes are tender, remove from the oven and adjust the seasoning (hot, salty, sour, sweet) and then chuck in the peanuts.
Serve with steamed rice and some vegetables.