I love Malaysian food and beef rendang is one of my favourite curries. I love going to a hard to find dingy food court near the Woolworths at Town Hall station in the Sydney CBD which has plastic tables and chairs, terrible service and really delicious nasi lemak – the dried anchovy, boiled egg, cucumber, peanuts, spicy sambal and rice are really support acts to the rich coconut gravy of the beef rendang. If you don't have the time or inclination to make curry from scratch then you don't need to read the rest of this post, you can just buy this curry paste and give yourself a high five when the amazing and authentic smells of beef rendang start coming from your kitchen.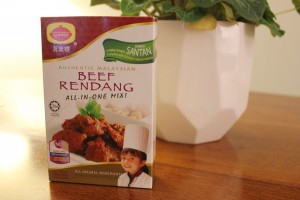 However, if you enjoy the satisfaction of and time it takes to make a curry from scratch, read on. I think this curry is best cooked in the oven so the sauce caramelises, which I didn't do this time around for some unknown reason reason hence the uninspiring colour of the gravy. I love to serve been rendang with spinach and shrimp paste, or simply diced tomato, onion and cucumber, or ala nasi lemak above. Roti also goes well as a treat, you can find really good frozen roti (looks like pastry) at your local Asian grocer which you can fry at home.
Ingredients
6 long dried chillies (deseeded if you prefer, this curry is quite hot), torn and soaked in warm water
150g red onion
5 cloves garlic
3cm piece galangal
3cm piece ginger
1 stalk lemongrass, finely chopped
1 cup desiccated coconut, toasted
1/4 vegetable oil
6 kaffir lime leaves, finely sliced
1 kg oyster blade or chuck steak, 3cm dice
250ml coconut milk
1/3 cup Malaysian meat curry powder
1/2 cup water
1-2 tbs thick caramel soy sauce
salt
Malaysian meat curry powder
10 cloves
10 whole black peppercorns
4 whole cardamom pods
1 cinnamon stick (about 2-inches/5 cm)
4 whole dried red chilies (deseeded if you prefer)
4 tbsp coriander seeds
2 tbsp cumin seeds
1 tsp fennel seeds
1 tsp turmeric
Method
Begin with the curry powder and toast all of the spices (except the turmeric) in a hot pan until they smell amazing. When cool, grind the spices and set aside. I have a coffee grinder which I only use for spices, but you can also use your muscles and a mortar and pestle.
Place the ingredients from chilli to lemongrass in a blender and whizz into a paste. Add a little of the water from the chillies if needed.
Toast your coconut in the spice pan until golden brown. Watch the pan and stir it often as the coconut turns quickly.
Heat the oil in a heavy oven proof dish and add the wet spice paste and kaffir lime leaves and fry for about 5 minutes until fragrant.
Add the beef, coconut milk and dry curry powder.
Add the water and toasted coconut and bring to a simmer. At this point, you can continue cooking your curry on the stove or transfer to a low oven and cook for several hours. Depending on the size you cut your meat, it could take 2-4 hours so check it every so often. When I cook the curry in the oven I leave the lid on for most of the cooking and then in the last hour or so, take the lid off so the sauce can thicken and caramelise.
When your curry is ready, stir through the soy sauce and salt to taste.
Yet again, this is another dish you can put in the freezer for an easy meal another night.