I was wandering along King St, Newtown while Stu had his haircut and I bought a scrap of  Japanese cotton in a super cute floral pattern. I was planning to turn into a shirt but it's a smidge not wide enough… so yet another paper bag elastic waist skirt it is. (I really need to teach myself how to sew a zip so I can expand my repetoire).
Anyway, this is a post about food not sewing! Even though we had a snack before departure I was pretty hungry by the time we drove all the narrow back streets (thanks no thanks Google) to the Tramsheds at Harold Park. Billeted as "Sydney's oldest new food destination" I was pretty excited to explore. And nervous, about parking and crowds, both of which seem to mar my experiences of a new and exciting thing as all the people also want to experience said new and exciting thing. Happily, there was hardly anyone there! Street parking and the ability to meander while looking skyward without the risk of bowling into someone! Excellence.
Tramsheds is, you guessed it, an old tramshed filled with many cafe/restaurant options as well as a fancy supermarket. We arrived about 11am and nothing much was open, even though the website says open from 7 there weren't many breakfast/brunch options available so we settled on Sir Chapel due to the coffee machine and beautiful staircase.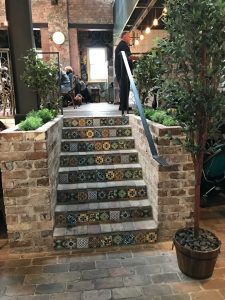 Since it's a foodie destination I was really excited about breakfast, but perhaps the menu with a number of items crossed out should have been a hint.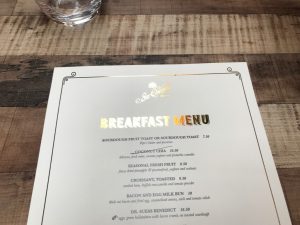 Also, we didn't receive any water and our coffee order was muddled… but anyway, we persisted and Stu ordered the world's smallest green juice served in a jar with a comically small straw. Can't see the juice for the monster hands? Exactly.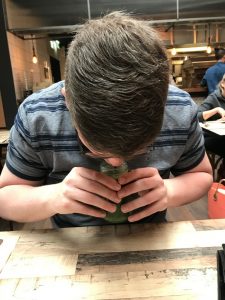 Stu ordered hotcakes and I ordered corn fritters with blackened chilli and a Moroccan fried egg. Sounded super fancy and exciting. But not. Corn fritters were boring, the blackened chilli seemed to have been swapped for cayenne pepper sprinkled around the edge of my plate and a Moroccan fried egg was an egg fried in oil. Not sure which part made it Moroccan. Stu's hotcakes were dreaming of a splodge of yoghurt, or cream, or creme fraiche, or ice cream.
Despite the lacklustre food we will definitely be back to explore some more, probably just not for breakfast. It's a great location for a night out as you could easily restaurant hop for each course ending at Messina Gelato for dessert. Tramsheds is one of the reasons I love living in Sydney – an innovative food destination with a story. See you there soon x