At least that's what it felt like… we drove down a street lined with orange brick warehouses and reverse parked against a wall padded with a cushion of grass and weeds. I'm super good (most of the time) at reverse parking courtesy of Sydney. Driving anywhere is a challenge and finding a park can be worse unless you are comfortable squeezing into small spaces or parking half in/half out against a yellow line because other people can't park properly. My logic is if my car is only half out of the designated parking area then I can only get half a fine. Right?
Anyway, to Two Chaps! We stopped here on the way to dropping Stu at the airport so didn't have heaps of time unfortunately but we didn't have to wait too long for table. I didn't realise it was a vegetarian place so Stu of course desired a mound of bacon which wasn't on offer, but there was lots of delicious food which  made the choice pretty difficult. As well as serving coffee, they also make a delicious sticky chai which they sell wholesale. I spotted a beetroot hot chocolate on the wall too which I will have to try next time. Anytime vegetables are combined with chocolate I think it's a super food.
When my brussels sprouts on toast with chilli, goats cheese and a poached egg arrived I have to admit I was a little disappointed with the size of the serving. However, it was delicious and fresh, raw brussels sprouts are surprisingly good! I was satisfied but if we had more time I probably would have followed it up with the aforementioned beetroot hot chocolate, or shared "dessert" of pancakes or similar. What, you don't do two course breakfasts??! Stu ordered the chana dal with coconut roti and I wish I had snaffled more than a whisper before he hoovered the bowl up. I think I saw him cleaning the bowl with his finger when he thought no one was looking.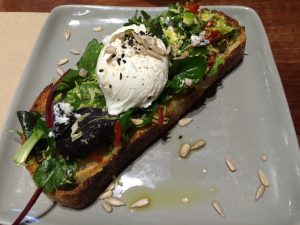 Two Chaps, we'll be back (along with the rest of Sydney's inner west). The secret is out!