[vc_row][vc_column width="1/1″][vc_column_text]
Sydney has taught us a valuable lesson – the best bars have the least signage and are the hardest to find. The Wild Rover is no exception. The Wild Rover is a sibling to Grandma's Bar in Sydney CBD a favourite of ours which does flaming mojitos and has baskets of knitting sitting on retro tables.
[/vc_column_text][vc_column_text]Unfortunately I have been forbidden from touching the knitting ("You're not supposed to knit, Sally, it's just there for decoration") but every time we descend the stairs I feel a sense of a achievement because I know there is a bar at the bottom.
The Wild Rover is on a dingy street in Surry Hills and we would have walked right past it were it not for someone standing at the door and a couple leading the way us through the saloon doors.  OK, the doors aren't actually saloon doors like you would find in a Western but I really felt like I was entering a darkened den of whisky and cocktails somewhere in America, not inner Sydney! (Side note: do the people on the doors of these unsigned places get a kick from watching people walking up and down, face in phone, trying to find the place that is right by their nose??)
We were greeted with a smile as we walked into the spacious downstairs bar area before taking the wooden stairs to the upper level and grabbing a seat at a roomy table while we waited for our friends Ivan and Rachana to arrive. Stuart went up to the bar to place our order and requested the "AA Meeting" with a bad joke which the polite bartender snorted at. I started with the Greenwich Sour and finished with a Popcorn Treacle which tasted just like that – amazing!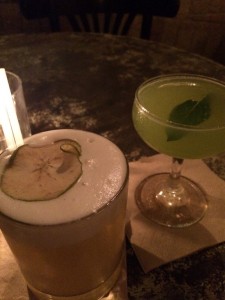 We will definitely return to The Wild Rover – it's a place you feel instantly welcome and the unpretentiousness appeals to not-so-cool-kids like us.
Our next stop was Bang Street Food and I was really excited to visit. I love dining out to eat food that I don't cook at home and Bangladeshi cuisine is something I am not familiar with. The menu got us talking for the unusual introduction that took pride of place "Welcome to Bang. Our restaurant is the favourite of celebrities and political leaders. The perfect place to share good times with friends, colleagues or with lovers." I don't understand why placing your bottom on the same seats as celebrities and political leaders is something aspirational and I don't understand why you can only dine with friends and colleagues or lovers, but not both. Anyway.
The menu didn't strike me as traditional Bangladeshi street food with ingredients like duck egg, salmon and wagyu beef so I began the journey slightly skeptical. We tried a number of different dishes and my favourite was the Fuska – spiced potato, coriander, green chilli, shaved egg and tamarind water. Super delicious.  One particular waiter stood out for us as he patiently weighed into our lively conversation on religion vs spirituality when we needed a referee. However, the plates were small and the prices high and that never sits well with me. After a number of plates of food that varied from good to great, I left hungry so I won't be back.
The Wild Rover
75 Campbell St, Surry Hills
Bang Street Food
3/410 Crown St, Surry Hills[/vc_column_text][/vc_column][/vc_row][vc_row][vc_column width="1/1″][vc_gallery type="image_grid" interval="3″ images="5696,5697,5698,5699,5700,5701″ onclick="link_image" custom_links_target="_self" img_size="small"][/vc_column][/vc_row][vc_row][vc_column width="1/1″][vc_gallery type="image_grid" interval="3″ images="5696,5697,5698,5699,5700,5701″ onclick="link_image" custom_links_target="_self"][/vc_column][/vc_row]