I bought my waffle maker for $1 from a garage sale about 8 years ago. It has travelled with me and made many batches of delicious waffles. I think that waffles have a reputation for being hard to make, but they aren't any different to making a batch of pancakes. I keep the cooked waffles warm in a low oven until I'm ready to place a pile on the table, with Canadian maple syrup and bacon.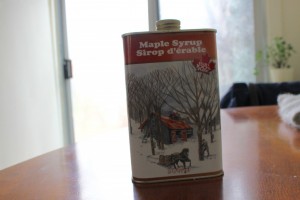 Ingredients
3/4 cup flour
1/4 cup cornflour
1/2 tsp baking powder
1/4 tsp baking soda
1/2 tsp salt
1 cup buttermilk (or milk soured with the juice from half a lemon)
1/3 cup vegetable oil
1 egg
1 1/2 tsp sugar
3/4 tsp vanilla extract
Method
Combine the dry ingredients in a bowl with a whisk.
Make a well and add the wet ingredients and whisk until smooth.
Let the batter sit for about 30 minutes
Cook in a hot waffle iron until crisp and brown.