The Anzac day long weekend was approaching and Stu and I decided on a whim to head to Cairns for 4 days. We didn't need much convincing really – it has been months since our last scuba dive and the warm tropical waters of Cairns seemed an ideal way to escape the suburban speed of Sydney.
We certainly didn't need much – a couple of changes of clothes, one "good" pair of shoes (sandals) and a pair of thongs each, along with our massive dive bag and we were heading to the airport. It was my first visit to Cairns and it had probably been about 16 years since my last visit to the reef when I spent time on Daydream Island with my family.
On the approach into Cairns I was mesmerised by the lush green hills sloping gently towards the water, it was beautiful and gave really meaning to the term "from the rainforest to the reef". It probably didn't take us more than 45 minutes to land, grab our bags, find a taxi, arrive at the hotel, dump our stuff and head to the marina for a wander and dinner. Winning! We followed the music to Salt House and ordered a drink at the bar overlooking the marina – there was an awesome live band playing, happy hour beer for Stu and a great wine list for me so not a bad start to our weekend! The menu looked OK too but we figured since we were so close to the water we should have seafood for dinner. Tha Fish was our choice, bookings are recommended but when we arrived we felt a bit silly for booking because it wasn't that busy. We were pretty hungry and Stu took over the ordering so we started with the spanner crab bruschetta, which was fine but we probably didn't need it when we realised the size of the hot and cold sea food platter we ordered for our shared main. Holy moly – it was amazing. The fresh local seafood was absolutely delicious, but weirdly bordered by two legs of Alaskan King crab. Stu helpfully provided feedback to our waiter that he ordered the platter to try the Alaskan King crab because he watches a lot of Deadliest Catch but the local seafood was far better. As soon as Stu started talking I cringed because I knew where he was going, Stu lost the waiter mid-monologue and I could see Stu was struggling to exit the ramble with his dignity intact. When the waiter was finally released we finished with dessert, rhubarb cobbler and a deconstructed violet crumble which ended the meal beautifully before we strolled home to get some sleep before our first day of diving in the morning.
We booked two days of diving with Tusa Dive and would highly recommend them. A great bunch of people, well organised and a surprisingly good buffet of food to refuel between dives. This was the first time we have dived on the Great Barrier Reef so after an awfully long and rough trip out to the outer reef – we struggled not to succumb to sea sickness as others had and I steadily looked at the horizon, avoiding the full vomit bags (and trying not to think about what would happen if the paper gave way…) We had a fantastic day of diving, while the visibility wasn't great we still managed to spot a White Tip reef shark as well as two ambling turtles, plenty of fish of all colours of the rainbow and more coral than you could poke a stick at. Tired and wet, thankfully the ride back to shore was slightly more tame and we trundled our bag and slip-slapped our thongs back to the hotel to wash up and have a quick rest before dinner.
Another restaurant on my list to try was Bayleaf Balinese – I fell in love with Balinese food when we visited a few years ago and was so excited to have what was claimed to be traditional Balinese food again. We couldn't go past the banquet with matched wines, a steal at $69 a head. The courses kept coming – we started with sate (delicious), then chicken and pumpkin soup (excellent) and when the curries we deposited for our main course we were helpfully told what we could eat (food) and what we could not (lemon grass garnish). The desserts were good too, I absolutely love black rice pudding and thankfully Stu doesn't so I could eat the lot without feeling guilty. Absolutely delicious food, highly recommend!
Sunday was a rest day for us, so we rested, read, and wandered around Cairns and past the plethora of tourist shops all selling the same thing – hats, Ugg boots and boomerangs. We found delicious gelato at Devine Gelato which we had to furiously consume before the humidity turned small flows into raging currents of gelato all over our hands. As a treat, I booked a massage for us at Oiled Massage which was delightful, I walked out on a cloud. After our massage we wanted an early, easy dinner because we were oiled and scented and wearing thongs. We found Corea Corea which ended up being in a food court but when we saw the queue of people waiting for the store to start serving from 6pm we knew we were onto a good thing! The bibimbap was so good, and with the unlimited house kimchi Stu and I were in heaven.
We woke early again for our second day of diving and when we arrived at the boat we were told the ride out was going to be more rough than Saturday so Stu and I cleverly decided to take the "happy" sea sick pills this time around. We figured it was about time we tried our luck doing unguided dives this time. We were given clear instructions about where to go, which shoulder to keep the reef on and when to start surfacing so we would end up near the boat… and we nailed it! So proud of ourselves, we figured that on our second time and we knew our way around we could spend some more time on the reef and exploring. However, neither of us took responsibility for navigation and we quickly ended up in a muddle and both raising our hands for the universal sign of "I have no idea". Stu pointed confidently towards the reef and gestured for me to follow so I did, until I realised the reef was rising quickly and our depth was disappearing. I thought Stu would realise he was going to beach himself on the reef so I just stopped swimming and waited for him to turn around. He didn't. I went around the reef and swum around for a minute or so but still no Stu (with his bulk and huge blue fins he's hard to miss) so I surfaced and waited for Stu to pop up and find me. He did! We re-orientated ourselves with the boat and went down again to swim, this time in the right direction. We were pretty confident, however after swimming for a while and still no boat, we decided to surface again and figure out where we were. Somehow, we managed to swim in an arc, neatly maintaining the same distance from the boat which is not helpful when you're actually trying to end the dive! This time we decided to swim back to the boat on top of the water, but the swell made it pretty challenging so they sent the rib out to collect us. We were handed the rope and towed back to the boat. Stu's commented when we were back on the boat "Now I know what it feels like to be a marlin!". From then on we were christened "the daffodils" because we kept popping up.
After another great day on the boat and since it was our last night in Cairns we decided to revisit Salt House and Tha Fish since we had such a great time first time around. We were in hysterics retelling our dive exploits, and this is a video of Stu demonstrating his reverse technique utilised to avoid beaching himself on the reef.
Our final day arrived so we hired a car to drive north to Port Douglas and then loop back to Cairns via Kuranda before boarding our evening flight. We found delicious coffee and breakfast at Re:hab – the coconut jam is a must try and we were well energised for the drive. What a wonderful road, it winds right along the coast with the beach immediately to your right and the mountains to your left. We were only disappointed by the weather, showers and clouds didn't make for a spectacular picture, but you get the idea.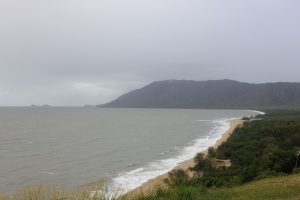 Port Douglas was an option for this trip but after visiting I'm so glad we ended up in comfortable Cairns. Port Douglas is a bit "Noosa" and felt like a tourist trap – but we did find great coffee and an average breakfast burrito at The Pantry. Our next stop was Kuranda, and holy moly, not what I expected! It's low season and the town was still overrun by tourist buses, kangaroo fur (um, who needs a kangaroo fur post card??), boomerangs and opals. We walked all the streets, bought tourist fudge and went for a brisk walk through a lovely rainforest. The walk conveniently started started opposite the main street and I was thankful for the forest canopy to protect us from the rain showers.
Our final stop was Barron Falls, which was another opportunity for a walk through the forest down to the viewing platform where we could hear and see the magnificent falls. My "walking shoes" sandals were slipping on the wooden paths and my maxi dress was hiked to my knees while I powered back up the hill as the rain went from "pleasant" and "refreshing" to "friggin' annoying. I'm really wet now, I want to go home". Damp but relaxed, it was time to drive back to the airport and return to Sydney. Cairns, we'll be back!