---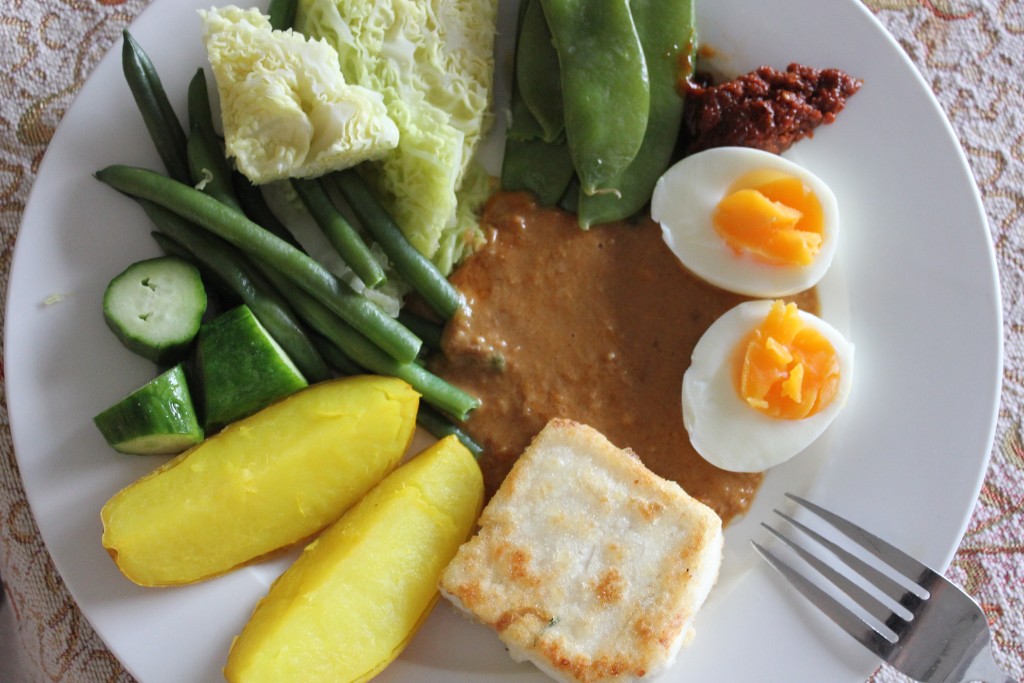 Dine in
This post (and one to come) are an ode to satay sauce. Specifically Ayam brand satay sauce. It's delicious and I highly recommend you seek it out from your local Asian grocer (I can't usually find it in the supermarket) and keep it as a cupboard staple. Today's dish is Indonesian gado gado, a room temperature salad made with a variety of  lightly steamed vegetables alongside the necessary boiled egg, sambal and prawn crackers. The simplicity of the salad is the secret, along with a very decent satay sauce (you can make your own with this recipe if you're keen!)
My fond memory of eating gado gado is sitting cross legged on a raised wooden platform on Gili Air, looking out to the blue ocean, slightly salty from a swim and warmed from the sun. Gili Air is a beautiful island off Bali, where there are no cars so the only way to get around is walking, bicycle (although riding on sand is really hard) or horse and cart. We were there 3 or 4 years ago so hopefully it hasn't changed much, because the simplicity and lack of pretentious posers was a welcome relief from busy, busy Seminyak.
The spicy, room temperature salad is a perfect antidote to hot summer days and it takes me back to beautiful Gili Air. Enjoy!
Ingredients
Prawn crackers
Satay sauce, warmed
Tofu or tempeh
Potatoes boiled in 1 tsp tumeric
Boiled eggs
Blanched vegetables (cabbage, beans, snow peas etc… whatever you have)
Cucumber cut into chunks
Sambal
Method
Prepare all your salad ingredients.
Put everything out on a plate. Devour! Also good the next day for lunch, so make extra.
Recommended Posts
11 Jun 2017 - Travel
04 Jun 2017 - Dine in
14 Apr 2017 - Dine in