We serendipitously both needed to be in Melbourne for work at the same time so we planned a weekend away to make the most of our time in the city.  We were "adults" in Brisbane for quite a few years before we ventured south to Melbourne and since then we have been many times. The city itself is easy to navigate by foot or by tram and the architecture, laneways and boutique shops make it easy to whittle hours away. Melbourne is synonymous with food and wine and we obviously did both while we were there!
Friday night we dined at Mamasita a Mexican restaurant which was on my list for a while. We had to put our names down and be patient so we walked to a nearby wine bar and scoffed some snacks to tide us over because the clock was ticking towards 10pm. When we were finally seated, the restaurant was noisy (I think that is what cool kids call ambience??) and hot because the aircon wasn't working. No matter, we ordered jugs of ice cold margarita to quench our thirst while we made short work of the menu and ordered a variety of shared plates. The surprise standout dish of the night? Corn on the cob. I'm not kidding! Chipotle mayo and lime with cheese… so delicious!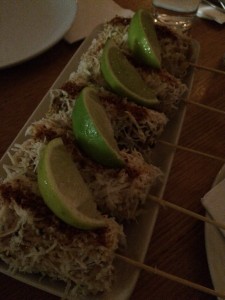 On Saturday we were heading out to the vines near Geelong with some friends so Stu and I went on an expedition to The Kettle Black. We probably should have done some more research rather than blindly following Brett's loose directions that it was a short walk from the tram stop… we were walking for more than a "short walk" but it was totally worth it. Stu ordered a beautifully dressed deep dish pancake. My chilli scrambled eggs with cured kangaroo didn't quite work for me (or I just had food envy) but the coffee was delicious. Our stomachs were well lined ready for wine tasting!
Brett had mapped out quite a few wineries for us to visit but it turned out the agenda was a bit ambitious for what we were going to be able to achieve in an afternoon. Our first stop was Shadow Fax winery which was surprisingly close to the CBD. It was a beautiful vineyard with a large restaurant which would have probably made a great place to eat if we hadn't just finished breakfast!
Our next stop and the absolute highlight was Lethbridge Winery. Luckily for us, the wine press was broken and while they were waiting for a part to be shipped from France, the winemaker Ray was available to give us a tour of his "workshop". Ray graciously gave us his time and talked to us about his wine making process, where he harvests his grapes and how he treats the grapes to make his beautiful wine. We were lucky enough to taste some young riesling from a barrel and my all time favourite wine Gewürztraminer directly from the vat. Ray doesn't add yeast to his wine, he relies on the natural microbes that exist on the grapes and stems. His unassisted process takes longer but he believes it results in a superior wine. We were so lucky to spend time with Ray to understand his passion for technique and producing quality wines – the afternoon got away from us!
It was now mid afternoon and we were in need of lunch so we drove to our next winery which also did wood fired pizzas. Perfect! Unfortunately… there was a wedding on and the restaurant was closed! Our solution? Stop at a service station to buy three bags of chips which we scoffed on our way back into Melbourne. Not quite sufficient sustenance for four people so Brett took us for a delicious souva and chips from Jimmy Grants. Seriously good – I could have inhaled two but I needed to leave room for dinner.
There seems to be a pattern with us dining late, when we arrived at Supernormal at about 8pm we were cheerily informed we would be able to dine at about 10pm. We had no desire to spend the next 2 hours in a queue so we wandered down a laneway and stumbled across Mary Fortune Bar. Service was spotty but with a smile and a sense of humour so that almost made up for the wait for menus… and then water… and then service… and then drinks… and repeat. I'm just not sure about the name – the bar is named for an Australian writer who was one of the earliest women to write detective fiction. A lovely thought, but Mary became an alcoholic towards the end of her life so I think it's a little inconsiderate to name a bar in her honour.
When we finally sat down at Supernormal we were ravenous and thankfully our dining companions are easy to please so ordering was simple and efficient. The food was good and fun to share. We were transported from Korea, through China and to Japan and there were a few highlights like the duck and lobster rolls as well as slow cooked lamb with spring onion pancakes. The only downside was that we were a table of 5 and some of the servings were for 3 or 4 people. Surely it's not that difficult to add on an extra pancake or lobster roll to the plate so we had to ask and wait. Luckily there was plenty of food so we didn't go hungry!
Sunday morning rolled around and after a (massive!) sleep in Stu and I only just made it to breakfast at Three Bags Full, if we were any later it would have been afternoon tea. Three Bags Full is a really funky cafe in an interesting space and the food was delicious. After breakfast, we went on a short walk to visit the Retro Jan show room, my favourite online furniture store to scope out future purchases for our humble abode. Stu wanted to work/play Starcraft in the afternoon so we returned to the hotel and I took myself out to wander the streets and do a bit of shopping before it was time to eat (again!).
Melbourne is fun to visit and much less pretentious than Sydney. We wined and dined well, the only part we missed this trip was the culture. The National Gallery of Victoria usually has great exhibitions (my all time favourite was a Monet retrospective a few years ago) but unfortunately there was nothing of interest on the weekend we were there. Still, between catching up with friends and my brother and his family we had a fabulous weekend and were ready for work on Monday. Thanks Melbourne!